PRICE: 34USD
ATV´S&MOTORCYCLE IN MOON VALLEY
AM/PM. Be ready at the office and take a taxi to the south of La Paz where you meet the guide. Take your time to practice and get familiar with the vehicle as you listen to the guide's instructions. Once you are ready. we will leave Mallasa and start riding our quadbikes through the stunning rocky sceneries of the valley with great views of the mountains around. According to the duration of the activity and the advice of the guide, the itinerary can be flexible according to what you prefer. There will be plenty of time to take amazing pictures of the surrounding nature as we pass by some local little villages on our way to the top for great panoramic views. You will be back to the office in southern Mallasa at the end of the ride. This activity is suitable for beginners.
INCLUDED:
Brand ATVs (auto, 250 c. c.).
Jacket, gloves and helmet.
Professional and experienced guide (Spanish-speaking).
Gasoline.
NOT INCLUDED:
Guarantee deposit (100$ in case the vehicle gets damaged).
Pick up/drop off from accommodation, return taxi from southern La Paz (approximately 40 Bs).
Beverages and meals.
WHAT TO BRING:
Driving licence.
Suncreen, sunglasses.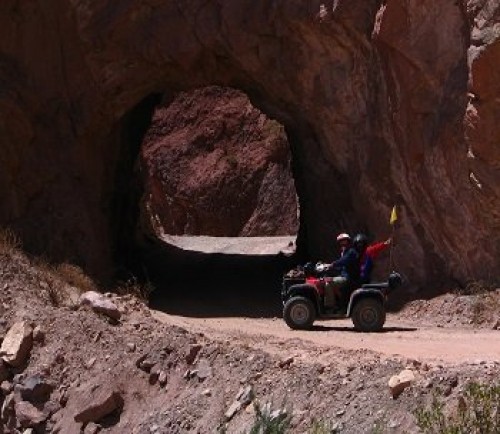 PRICE: 195 USD
"DEATH ROAD" FULL DAY BY MOTORCYCLE
Around 8.30 am we will collect your from your La Paz hotel and transport you to our office in the Southern Zone of La Paz where you will try on all your riding gear and test your motorcycle. We set off from here and ride for about 1 hour through urban areas up into more mountainous regions until we reach "La Cumbre" which is a mountain pass at about 4600 meters above sea level. At this altitude it is cold year round in the mornings. From here we will descend via the new road towards Coroico, with the scenery becoming more tropical as we descend and the weather warmer. We pass through several different climatic zones as we descend into cloud forest or as it is locally known "Yungas". There will be stops for taking photos at the best spots. We should arrive in Coroico for lunch time were you can buy yourself some and take a break before we start on our return journey this time taking the "World's Most Dangerous Road". We will, for obvious reasons, take this road much slower as it is a windy dirt road with some very large drops at the side. We will stop to take photos at the most scenic points and you can look back at the route taken. We will ascend all the way back until La Cumbre and return to the office at aproximately 18.00 pm. Total distance of riding is 222km.
INCLUDED: 
Motorcycle (Honda 250 c.c. Honda XR400 c.c. Honda Falcon NX 400 c.c. or Suzuki DR650c.c.).
Equipment ( Jacket, helmet, boots and gloves).
Fuel.
1 Guide with good mechanical experience.
NOT INCLUDED:
Meals, drinks.
Entrance fees, return Taxi from Mallasa to your Hotel (approx 30 to 40bs).
Damage Insurance for bike (See Insurance and Damages below).
WHAT TO BRING:
Driving licence.
Suncreen, sunglasses.